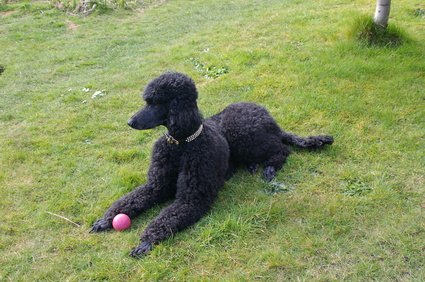 Poodles are beautiful, majestic dogs. According to the American Kennel Club and other registering agencies, the poodle is bred in three sizes: standard, also known as giant; miniature; and toy. There are small poodles called teacup poodles, but these tiny poodles are actually small toy poodles. Poodles, first recognized by the AKC in 1887, have long been known as popular show dogs. They are also much-loved family pets due to their easygoing temperament and nonshedding coats. Poodles are loyal and majestic and, if they're groomed in their traditional unique grooming style, easily recognizable.
Unique Features of the Giant Poodle



The giant poodle is over 15 inches in height.

The giant poodle, also known as a standard poodle, is distinguished from other poodles due to height. Giant poodles stand over 15 inches in height measured from the shoulder. The miniature poodle measures 10 to 15 inches in height. The smallest member of the breed, the toy poodle, measures less than 10 inches.
Weight of a Giant Poodle



A giant poodle must exercise frequently.

A giant poodle weighs more than the other members of the breed. A giant poodle typically weighs between 45 and 70 lbs. if it is fed properly and if it receives plenty of exercise. The poodle is an active breed, so it requires much exercise to maintain an appropriate weight and good health.
Head Shape



Young poodles share the same head shape and features as adult giant poodles.

The American Kennel Club defines a standard poodle's ideal head shape as "rounded, with a long muzzle." There is no specific size that the poodle's head should be, but a poodle can be easily distinguished from other dogs by the length of muzzle and the long, curly ears.
Giant Poodle Coloring



Poodles are always solid-colored.

Giant poodles are distinguishable by their size and by their double coat. The curly, dense coat of a poodle does not shed but requires regular grooming. Poodles are hypoallergenic, so they make great family pets for those who have allergies. A poodle is bred in a variety of colors -- white, black, apricot, grey -- but is never found exhibiting multiple coat colors.