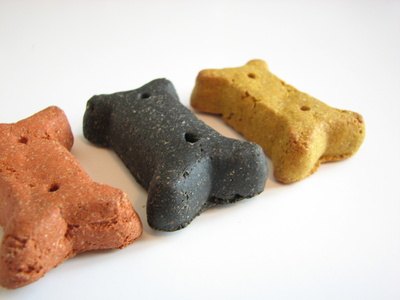 You take extra-special care of your dog, from grooming to exercise to loving attention. With lots of dog food and treat products having been recalled in recent history, it can be difficult to know which brands of foods and treats to purchase for your pooch. You can make taking care of your puppy less scary by making these treats at home.
Instructions
1

Preheat oven to 300 degrees. Spray cookie sheets with non-stick cooking spray and set aside.

2

Combine unbleached flour, whole wheat flour, cornmeal and powdered milk in a large mixing bowl. Stir until ingredients are mixed well.

3

Pour the broth into a large mixing bowl. Pour yeast into the broth and allow the yeast to dissolve completely. Allow it to stand for about 10 minutes. Stir flour mixture into broth mixture and mix well until a thick dough has formed.

4

Dump dough onto a lightly floured surface. Roll dough out to about a quarter of an inch thickness using the rolling pin. Use a bone shaped cookie cutter to cut cookies from the dough. Ball up the remaining dough, roll it out and cut more cookies. Repeat until you have used all of the dough. Place the cookies onto the greased cookie sheets.

5

Beat the egg with the water until frothy. Brush the tops of the cookies with this egg wash (it will give it that shiny gloss you see). Bake treats for forty minutes and turn the oven off. Allow to harden for several hours or overnight. Keep in an airtight container.