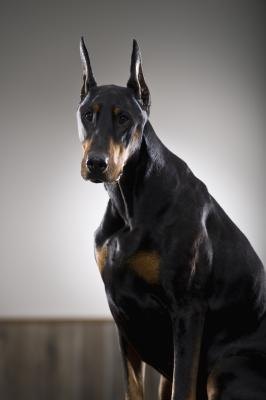 Entering your Doberman pinscher in a breed show is a way for an owner and dog to bond and get a look at dogs of the same breed and class. A Doberman pinscher is classified by the American Kennel Club as a "Working Group" dog, which puts it in the same class as akitas, great Danes, bull mastiffs and Siberian huskies. By following guidelines set forth by the AKC, you soon will be able to successfully show your Doberman pinscher.
Instructions
1

Verify that your dog is registered with the AKC as a purebred; if you purchased your dog from a Doberman pinscher breeder, this would have been included in your documentation. Request a copy of your dog's duplicate registration certificate from the AKC if you do not have one. Wait until your Doberman pinscher is at least 6 months old and has not been spayed or neutered.

2

Watch a couple of dog shows in person so you can see everything that is involved with participating in the show. If possible, talk to a couple of Doberman pinscher owners after the show to get some tips.

3

Join the local or regional branch of the AKC in your area, which will allow you and your dog to compete in shows and gain access to information about upcoming shows and classes through newsletters and emails.

4

Enroll your Doberman pinscher in conformation classes, which are similar to obedience training classes. Follow the trainer's instructions, which will teach you the basic information and skills needed to show your dog in competition.

5

Enter your dog in local or regional match shows, which used for practice prior to a regional or national show as well as a training session for dogs and novice exhibitors or owners.

6

Consider hiring a professional dog handler to show your Doberman pinscher for a fee. Contact fellow owners or your local club for recommendations or a list of possible handlers; the AKC also has a list of AKC registered handlers, which can be found on their website. Look for someone who has experience with your breed of dog and has worked in several shows or has a list of training credentials in lieu of show experience.

7

Learn what things the judges look for during the show and make sure your training and grooming efforts are focused on those aspects. Judges look for overall appearance and structure, which determine the ability of the dog to produce quality puppies. Talk to your breeder and members of the AKC to see how well your dog compares in the categories that the judges will consider.

8

Plan to arrive with your dog at the show location at least 24 hours prior to the show unless the show takes place near you. Many regional and national shows have arrangements with hotels or other lodging establishments to allow for dogs in their rooms so make reservations in advance. Let the dog relax and complete any major grooming that the dog may need, such as nail trimming, ahead of the show.

9

Arrive at least two hours prior to your first show appearance or as dictated by the show's operators. Keep your dog in a carrier until you arrive at your station. Bring food and water, dog treats and toys to keep your dog occupied and brush or comb your dog as needed.

10

Take your dog to the practice for a last-minute walk through before the show.

11

Follow the instructions given by the judge when in the show ring. Walk around the ring showing your dog's gait and ability to heed commands.

12

Bring the dog to the judging table, lifting it up when requested. Remove the dog when asked to do so and go to the place as directed by the judge or show officials while you wait for judging to be completed.