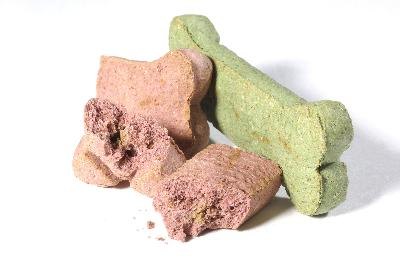 Basic homemade dry dog food is easy for you to make and good for your dog. It has more taste and less filler than commercial kibble. You can make it any size, to suit your dog, and if you ask nicely, he might even let you try a bite.
Instructions
1

Put the water in a large bowl, add the yeast and stir until dissolved.

2

Place the eggs (shell and all) in the blender and liquefy. Add to the yeast mixture.

3

Mix the ground beef into the liquid in the bowl.

4

Put on gloves, if you wish, and use your hands to work in the powdered milk and wheat germ.

5

Add the flour (reserving 1/4 cup) and knead into dough -- it will be fairly stiff.

6

Rest the dough in the bowl for 30 minutes.

7

Dust your work surface with some of the reserved flour, turn the dough out onto the floured surface and dust the top with a little flour.

8

Pat the dough down and then roll it out into the size and shape of your cookie sheet.

9

Transfer the dough to the cookie sheet and cut it into the shapes your dog prefers -- anything from big bones to bite-size bits.

10

Slide the cookie sheet into the preheated oven and bake for 45 minutes, or until golden brown and delicious.

11

Serve this beef-tasty crunchiness dry or moistened with water or broth.