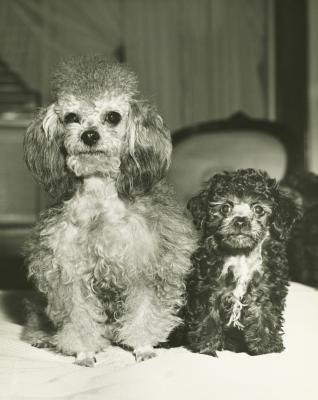 Poodles are a breed of dog with curly, soft fur, long legs and a high intellect. They come in a variety of colors, ranging from Black to Cafe Au Lait to Red. Poodles are considered very amenable to training, wonderful with children and easily socialized. There are five different types of poodles, differentiated by their sizes.
Standard Poodles



Standard poodles are the largest type of poodle.

Standard poodles are the largest of the poodles and typically, a lower energy dog than other types of poodles. Full-grown Standard poodles measure at least 15 inches tall and weigh between 45 and 70 pounds. Like all poodles, they shed very little and so are considered hypoallergenic pets for their owners. Standard poodles are shown with a number of haircuts, such as the English saddle or the Continental clip. They normally live 12 to 15 years.
Miniature Poodles



Miniature poodles often perform in the circus.

Miniature poodles are another American Kennel Club recognized breed. They are very similar to Standard poodles, except that they are smaller and tend to have more energy, requiring more exercise and attention. Miniature poodles grow to be 11 to 15 inches tall and weigh between 15 and 17 pounds. Because they are highly trainable, miniature poodles are commonly circus dogs. Owners often give them a "puppy" or "lamb" hair clip, though this is not used in dog shows.
Toy Poodles



Toy poodles are very lively and affectionate.

Toy poodles, recognized as a breed by the American Kennel Club, are even smaller than miniature poodles. Up to 10 inches in height -- the determining factor in poodle breed type -- they may weigh six to nine pounds. Like larger poodles, they are smart and active, easily trained and very social. Toy poodles are excellent with children, and should not be left alone all day, as they prefer to be with people.
Klein and Teacup Poodles
Klein and Teacup poodles are two breeds that are not recognized by the American Kennel Club, though Kleins are recognized in Europe and by the United Kennel Club in America. The Teacup is actually a Toy poodle, bred for its extra-diminutive size; because of this breeding practice, it runs a higher risk of genetic problems than other poodles. Kleins are 15 to 20 inches tall and weigh 20 to 30 pounds; Teacups are less than 10 inches tall and weigh less than six pounds.